The ancient ritual of man: to celebrate life, as friends and family gather around the dining table; is as old as time and, like time, it binds us all together.
The sharing of a meal forms a bridge between the people sharing and a meal at a time, while creating a unique, memorable and delicious experience.
The philosophy roots in the good old tradition of having a "family dinner". Whether it's with the family you was born into or the ones you've made, because the fabric of family is woven by shared experiences and time spent together.
The dinner table have grown out of families' need to connect with each other at the end of every day, and one can argue that this need is even stronger than ever nowadays in our over scheduled, technological lifestyle. It seems like the traditional family meal is becoming a thing of the past.
It combines two basic needs: nourishment and connection (food and people), yet, the story begins around table, by creating memories and rituals you will carry forever.
Result
The Social Dining Club: Logo Design & Concept Brief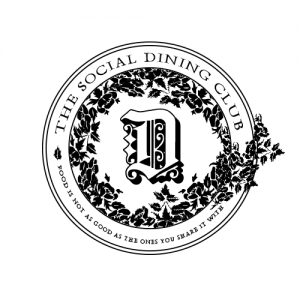 We are pleased to offer the ultimate in culinary experiences for food lovers in Ibiza though our new dining club.
By becoming a member you will enjoy the splendor of gourmet dining at the most foreboding top secret top locations in Ibiza in the presence of true master chefs with the credentials to match.
It's free and open to everyone who desires gourmet adventures and would to interact with likeminded in the perfect social atmosphere.
Once you are a member, you are entitled to dining and sharing privileges at all our restaurants and events – and you can invite anyone you would like, the guestlist is yours.
Graphic Design